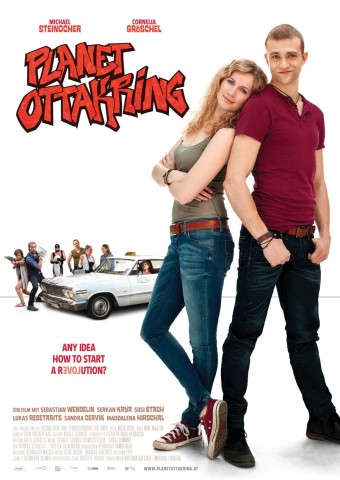 Release:
14.08.2015
Sammy, a likeable slacker and amateur crook, must satisfy the last wishes of Disko, the old godfather of Ottakring, Vienna's 16th district, after his death: collecting protection money, financing criminal activities, solving problems—and also keeping track of everything and doing what godfathers have always done.
But, Sammy's not a real gangster. Valerie, who studies business at an elite German university, wants to prove that banks can make a profit and still do business in a sustainable way. She travels to Ottakring, planning to transform her theories into practical knowledge at a credit broker. The local loan shark, Ms. Jahn, is however interested in higher things and wants more. Much more. And so Sammy and Valerie cross paths while trying to find their bearings in this confusing and relatively hopeless situation. Together with friends and neighbors, they soon form an alliance against the immoral and insidious methods of lenders and other criminals.
Most importantly, they find a way to set up a flourishing business system in the little district, one from which everyone profits. If only emotions didn't get involved to make things more complicated. David vs. Goliath in Vienna's 16th district!
With:
Michael Steinocher, Cornelia Gröschel, Sebastian Wendelin, Serkan Kaya, Sandra Cervik, Lukas Resetarits and many more
Funding:
Österreichisches Filminstitut, Filmfonds Wien, ORF Film/Fernseh-Abkommen,
Filmstandort Austria
Credits
| | |
| --- | --- |
| Production Company | Prisma Film- und Fernsehproduktion GmbH |
| | ● Viktoria Salcher, Mathias Forberg |
| SCREENPLAY | Mike Majzen |
| DIRECTOR | Michi Riebl |
| DOP | Richard Wagner |
| Editor | Bernhard Schmid |
| Sound Department | Thomas Szabolcs |
| | Torsten Heinemann |
| Sounddesign | Bernhard Bamberger |
| Music | Titus Vadon |
| | Markus Gartner |
| Theme Music | Effi |
| Art Department | Elisabeth Klobassa |
| COSTUME DESIGNER | Anita Stoisits |
| Make up | Georgie Schmid-Schmidsfelden |
| | Ernst Dummer |
| Productionmanager | Brigitte Hirsch |
| CASTING | Nicole Schmied |
| Distributor | Luna Filmverleih GmbH |
Prizes
NOTTINGHAM INTERNATIONAL FILM FESTIVAL
Best International Feature

Film of the Festival
MANCHESTER FILM FESTIVAL
Jury Special Mention: Outstanding Screenplay
Festivals
08.-13.03.2016

13.-17.04.2016

30.07.-06.08.2016

18.-25.08.2016

30.08.-09.09.2016

07.-09.10.2016

02.-11.12.2016

02.-05.03.2017